Around The O – Sitterly Inches Closer to Eighth Oswego Title
July 25, 2018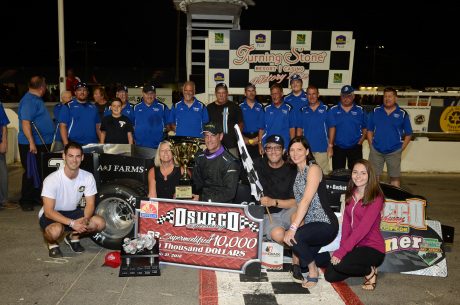 Otto Sitterly took a big step forward in his quest for an unprecedented eighth supermodified track championship last Saturday night at the lakeside oval. His victory in the Novelis $10,000 dollar to-win Mr. Supermodified event helped him increase his stronghold on the points chase to 44 markers over Keith Shampine. Michael Barnes and defending champ Dave Shullick, Jr. sit 48 and 51 points behind with just three regular season races remaining.
It may not appear to race fans or his fellow competitors, but Sitterly says that at this point he's simply trying to finish races. He's hoping that if he can avoid trouble good fortune will fall his way. He knows he has a very fast car and holds his crew second to none.
On Saturday night, he piloted the black, John Nicotra-owned No. 7 to the top the speed charts in time-trials with a lap of 15.997 seconds. It was the second straight week he'd dipped into the 15 second range. He then proceeded to dominate his heat before frustrating the field in the 75-lap main event with another show of supremacy. All of this was on the heels of a major front-end rebuild following the previous week's meeting with Oswego's steel confines.
Just barely earning his handicapped starting spot in this past weekend's Mr. Small Block Supermodified event, Michael Bruce found himself starting on the front row, once again. Weeks of frustrating results earned him the pole position. However, unlike previous missed opportunities, Bruce was able to capitalize. He would lead all 35 laps en route to his first win since last August.
Leading up to last Saturday night's race, the results of his 2018 campaign had taken a toll on the driver of the No. 22 SBS racer. Bruce says it was the efforts of his crew coming together when he was both physically and emotionally spent, that ultimately got him to the track. The victory was two-fold for the Oswego native. He had the satisfaction of the taking the checkered flag, but equally relished the reward of his team's efforts.
Landing his self-built No. 01 on the podium for the third consecutive week, Dalton Doyle says he's finally headed in the right direction. Moving up to fourth in the season-long points standings, a track title may be a bit out of reach, but a feature win may be right around the corner.
He says it wasn't necessarily anything he hit on, but a simple case of going back to the basics with the setup.
Supermodified veteran, Bill Sharkey, has had quite the up and down season – and that doesn't even count the time he's had on the track. Set to campaign 2018 behind the wheel of his brother Ron's No. 71, he and the team ended up parting ways just weeks before the season was set to begin.
Guard Nearbin was quickly tabbed to be the new driver. However, a health issue popped up on the radar for Nearbin and he found himself in a Syracuse hospital having surgery just days before the start of the season.
Sharkey and his former team would end up doing an about-face and come together to make the season-opener. The plan was to have Sharkey in the car for the duration of Nearbin's recovery. The deal has since now appeared to have turned into a season-long venture, with Nearbin needing some extra time for recovery.
Throughout the season Sharkey has scored two, top-10 finishes. Until last Saturday night, his best lap times had been in the mid-to-late 17 second range. However, this past weekend saw the No. 71 lay down multiple 17.1s, with a best time of 17.022. The team is making progress and Sharkey says he's having fun.
Tim Snyder took over the reigns of his No. 0 this past weekend. Snyder had been in the process of moving from New Hampshire back to Upstate New York. It may have been Snyder's first time behind the wheel this year, but the team has been here since the beginning of June. Crew Chief, Brent Murray had been filling in for Snyder, earning himself a top-10 finish while fulfilling a life-long dream to race a supermodified at Oswego.
Snyder had a taste of just about everything on his first night out. Things came back quickly for the Oswego native, stopping the clocks at 16.696 in time trials. Snyder would then start his heat race on the front row, before getting turned around on a restart. In the 75-lap feature, Snyder would be denied finishing a single lap after getting caught up in a jingle shortly after the green flag fell. He'd exit the track via the hook and end his night in the pits.
A year and a half removed from his near championship run in 2016, the driver of the No. 50 supermodified, David Gruel, sits ninth in the Novelis points standings. If not for missing a race night due to a hard crash the previous week, he'd likely be in a tight battle for fifth.
Having earned four top-five finishes this year, Gruel says snagging a feature win before season's end would help him forget his mid-season troubles.
By virtue of his second-place finish on Saturday, Barnes inched a bit closer to Shampine for second place in the title chase. Just seven points separate Shampine, Barnes and Shullick. Right now, Barnes isn't thinking about catching Sitterly for the track championship, he's trying to figure out how to simply keep up with him on the track.
Barnes says if Sitterly simply maintains his performance, he isn't sure if he and the Syrell No. 68 team have anything for him. He says Sitterly is in a league of his own right now and that it would take all of the planets to align perfectly for Barnes to simply keep up with him.
The team has earned two wins this year. That's two more checkered flags than they'd earned all of last year. They've had a new car in the works for quite a long time. Progress is being made and Barnes says it's possible the new car could hit the track just before Classic Weekend. However, it's also quite possible it won't be ready to make its debut until next May.
Barnes says what he's hoping to get from the new car is for it to roll better in the center of the turns so that he'll have more forward bite upon exit. He'll be hoping for the same this coming weekend in Ohio, where he'll be piloting a car for Vic Miller in the Sandusky Classic.