Last-Lap Dramatics Reward Sitterly at Oswego Speedway
August 12, 2018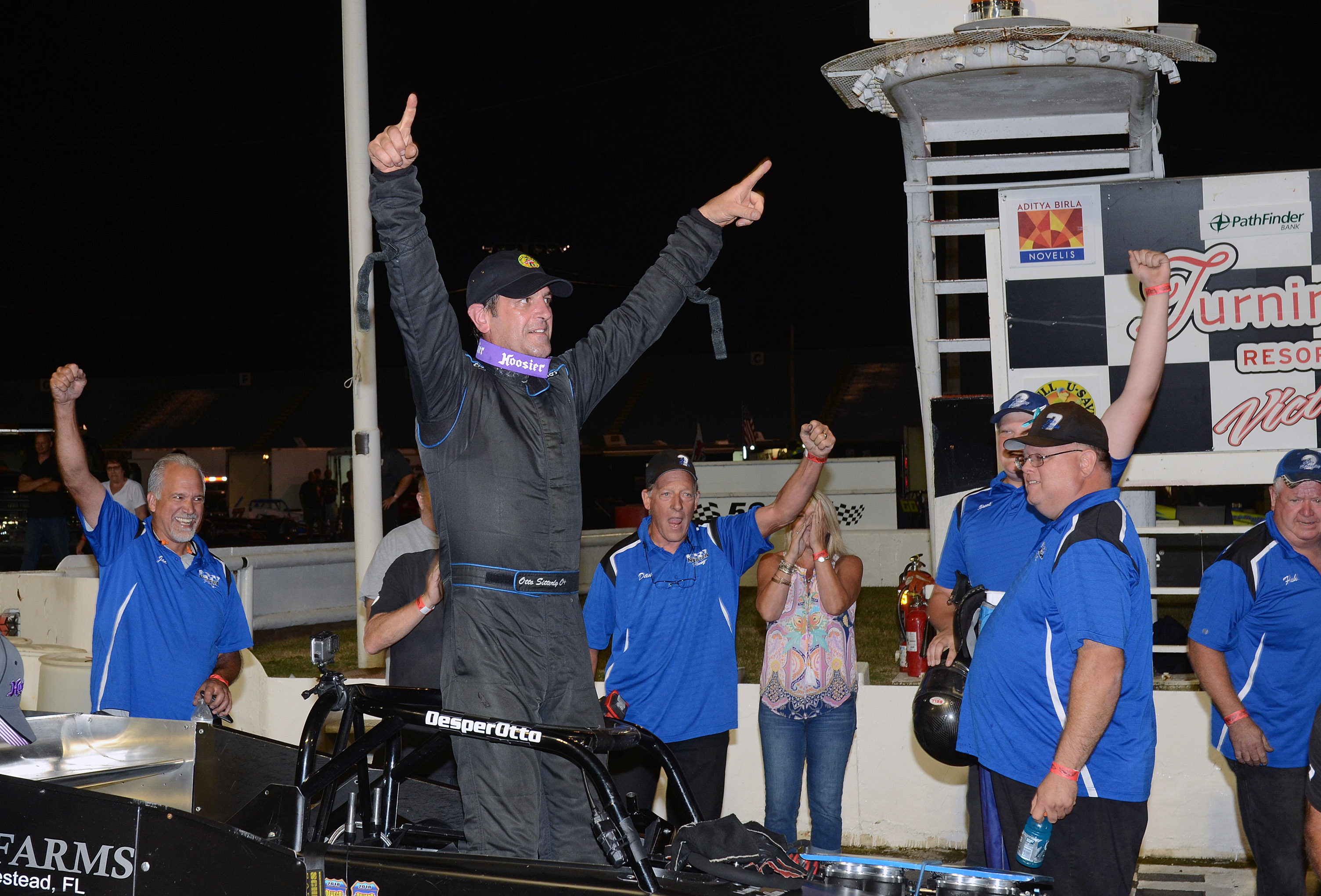 Otto Sitterly earned his third feature win of the 2018 season in photo-finish style on Saturday night at the Oswego Speedway, narrowly edging out supermodified veteran Doug Didero at the checkered stripe. The rich history of a combined 10 track championships and 74 feature wins between the duo only added to thrilling finish.
In the midst of lapped traffic, Didero had just taken the lead away from Dave Danzer with just three trips around Oswego's fast five-eighths remaining. That same traffic would offer up a handful of opportunities for Sitterly to take a few ganders around Didero's No. 3, with the last coming out of the fourth turn on the final stretch. Sitterly's No. 7 rolled out of the corner underneath the race leader and the two would race side-by-side to the checkered flag.
With Sitterly on his left side and no time to move around the traffic in front of him, Didero's only choice was to literally ride the rear bumper of Tim Snyder's No. 0 across the finish line. That train would come up .010 seconds short of the John Nicotra-owned No. 7 in a finish that brought fans to their feet and had everyone looking at the electronic scoreboard which revealed who the race winner was.
Danzer would nab the early lead away from Aric Iosue at the drop of the green flag to start the 50-lap main event. Danzer's No. 52 had jumped to a five-car length advantage over the field when the first caution flag flew on the third lap. Dan Connors, Snyder and Joe Gosek had come together in turn No. 1.
On the restart, Danzer would lead Iosue, Dave Gruel, Tyler Thompson and Didero back to racing. Didero would slip underneath Thompson's No. 98 for fourth. Sitterly would best Thompson on the sixth lap, but get the boot back to fifth after the caution flag flew for Lou LeVea, Sr.'s spun No. 66.
However, Sitterly would get him back on then ensuing restart, with Michael Barnes following the No. 7 into fifth place one lap later.
By the 15th lap, Danzer commanded a dozen lengths on his nearest chasers. Gruel, Didero, Sitterly and Barnes all hounded Iosue for second place. Gruel would find a way around Iosue's No 11 on the 18th lap and set chase on the race leader.
The third caution flag of the race would fly on the 23rd lap, after Jeff Abold and Keith Shampine spun together entering the third turn, battling for eighth. Danzer would lose his advantage and Gruel would get to see if he had anything for the No. 52.
Danzer would hold off Gruel on the restart, with Iosue, Didero and Sitterly filling out the top five. Barnes, Thompson, Brandon Bellinger, Jerry Curran and Lou LeVea, Jr. rounded out the top 10.
By the 30th lap, Danzer had built himself a five-car advantage over Gruel. Having had a mirror full of Didero and Sitterly for nearly half the race, Iosue's No. 11 would finally gave way to its challengers.
Now in third, Didero would begin to move in on the two race leaders. Having just cleared the No. 11 as well, Sitterly would set sail on the same route toward the lead duo.
With 10 to go, Didero and Sitterly would catch Gruel. The race's heaviest lapped traffic was coming into view and the race leader's No. 52 was starting to loose its grip on the racing surface.
With five rounds to go, Didero would find room under Gruel's No. 50. The No. 50 would fight back on the high side, but only ended up allowing enough room for Sitterly to slip under his left side.
With Sitterly on his tail and only a few circuits remaining, Didero had no time to waste. His No. 3 would maneuver its way under the race leader on the front straightaway. Sitterly would take to the high side of Danzer's No. 52, chasing Didero into second place.
Still navigating lapped traffic, Didero searched for clean track, but none could be found. Sitterly would take a look on the outside before going for broke with an incredible move to the inside of the No. 3 racing off of the final turn. With the crowd rising to its feet, he would pull alongside the race leader, nipping him at the finish line.
The win coming with just one week left in the regular season points chase virtually seals him an unprecedented eighth track championship in Oswego's supermodified division.
Didero would emerge from his brand new No. 3 defeated, but pleased with his car's performance and the show the fans were treated to.
After leading the majority of the race before succumbing to handling issues, Danzer held on to grab a podium finish.
Having chased Sitterly for the majority of the race, Barnes landed the Syrell Racing No. 68 in fourth.
Racing up front from the very beginning, Gruel earned his fifth top-five finish of the year.
Novelis Supermodified 50: 1. Otto Sitterly (7), 2. Doug Didero (3), 3. Dave Danzer (52), 4. Michael Barnes (68), 5. Dave Gruel (50), 6. Aric Iosue (11), 7. Brandon Bellinger (02), 8. Tyler Thompson (98), 9. Dave Shullick, Jr. (2), 10. Keith Shampine (55), 11. Jeff Abold (05), 12. Lou LeVea, Jr. (83), 13. Tim Snyder (0), 14. Jerry Curran (73), 15. Hal LaTulip (56), 16. Logan Rayvals (94), 17. Brian Osetek (69), 18. Bob Bond (47), 19. Joe Gosek (00), 20. Lou LeVea, Sr. (66), 21. Dan Connors (01), 22. Nathan Schultz (26), 23. Bill Sharkey (71), DNS – 24. Shaun Gosselin (77)
Heat race wins went to Thompson, Shampine and Iosue.
In the Pathfinder Bank SBS division, Mike Bond and Dave Cliff split the two, 20-lap twin features. Bond led all the way from the pole in the first race, holding off Cliff to earn the win. However, Cliff would end up grabbing the checkered flag in the second feature, passing Cameron Rowe early on and racing unchallenged the rest of the way.
Cliff, Dalton Doyle and Brad Haynes all earned a pair of top-five finishes on Twin-20s night.
Pathfinder Bank SBS Feature #1: 1. Mike Bond (74), 2. Dave Cliff (50), 3. Dalton Doyle (01), 4. Jack Patrick (9), 5. Brad Haynes (86), 6. Dan Kapuscinski (00), 7. Cameron Rowe (77), 8. Camden Proud (54), 9. Matt Magner (87), 10. Russ Brown (13), 11. Barry Kingsley (91), 12. Mike Bruce (22), 13. Russ Bartlett (62), 14. Bryan Haynes (88), 15. Kyle Reutter (15), 16. Steve Flack (32), 17. Anthony Losurdo (1), 18. David LaTulip (27), 19. Steve Wood
Pathfinder Bank SBS Feature #2: 1. Dave Cliff (50), 2. Jack Patrick (9), 3. Brad Hayes (86), 4. Russ Brown (13), 5. Dalton Doyle (01), 6. Cameron Rowe (77), 7. Mike Bond (74), 8. Camden Proud (54), 9. Matt Magner (87), 10. Anthony Losurdo (1), 11. Dan Kapuscinski (00), 12. Mike Bruce (22), 13. Barry Kingsley (91), 14. Bryan Haynes (88), 15. Russ Bartlett (62), 16. Cameron Black (23), 17. Kyle Reutter (15), 18. Steve Flack (32), 19. David LaTulip (27)
Small block supermodified heat race wins went to Jack Patrick, Dalton Doyle and Cameron Rowe.