Cliff Wins Tony White Memorial, Duphilly Earns 350 Super Main
May 26, 2019
David Cliff took the checkered flag in Sunday's Tony White Memorial SBS event at the Oswego Speedway. Cliff took the lead away from David LaTulip in the midst of lapped traffic with just four laps remaining. Running into issues of his own in traffic, Cliff would nearly lose the lead on the final lap, but hold off LaTulip for his 16th feature win, tying him with Dean Hoag for third place on the all-time SBS win list at Oswego.
Listen to – David Cliff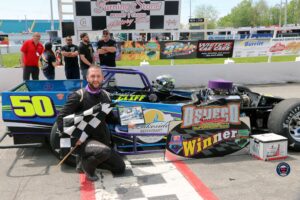 Cameron Rowe would grab the early lead away from Tony Pisa at the drop of the green flag. Cliff's No. 50 would find room and dart to the point on the fourth lap. However, before the lap could be completed, Tim Glidden, Sr.'s No. 04 tagged the inside hub, summoning the caution lights.
Cliff was sent back to third. The double-file restart did not play into Cliff's favor as he was shuffled towards the back. LaTulip would nab the lead away from Rowe, bringing Pisa with him. Anthony Losurdo would take over third.
Not to be denied, Cliff would muscle his way back under Losurdo's third-place running No. 1. One trip later, he would conquer Pisa's No. 89 for second place. Cliff would then chase down LaTulip and the lead duo would race nose-to-tail for several laps.
With under five to go, LaTulip was forced to venture an outside bid on a lapped car, but as he moved to the outside, the slower car drifted into his path. Cliff pounced on the opportunity to take the lead with an inside jaunt and moved the Tim Barbeau-owned racer into the top spot.
Immediately, Cliff built a comfortable advantage over LaTulip as he raced to finish his final few trips. However, after taking the white flag, Cliff was forced to slow and find racing room in lapped traffic. LaTulip would give it a final try, but fall short.
Losurdo, Joshua Sokolic and Pisa filled out the top five.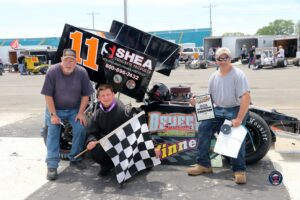 In the inaugural event for Oswego's own 350 Super division, New Englander, Stephen Duphily led all 25 laps en route to the win. The New Hampshire driver took the lead away from fellow New Hampshire driver, Michael Scott, and never looked back. John Burke's No. 01 would stay close, but not close enough to mount a challenge.
Listen to – Stephen Duphily
After falling off the pace enough to lose the leaders, Scott's No. 10 was able to reel them back in, but simply ran out of laps to make anything happen. Duphily and his Shea Concrete No. 11 took the checkered flag, with Burke and Scott filling out the podium. Eddie Witkum, Jr., Anthony Losurdo, Barry Kingsley and Vern LaFave filled out the field. Mike Bruce was a scratch.
The next scheduled event for Oswego's new division is June 15.
Pathfinder Bank SBS 25: 1. David Cliff (50), 2. David LaTulip (27), 3. Anthony Losurdo (1), 4. Joshua Sokilic (26), 5. Tony Pisa (89), 6. Cameron Rowe (77), 7. Russ Bartlett (02), 8. Travis Bartlett (03), 9. Steve Flack (32), 10. Greg O'Connor (90), 11. Tim Glidden, Sr.