ANDY JANKOWIAK RUNS TO OL' BOY CUP V VICTORY AT NEW YORK INTERNATIONAL RACEWAY PARK
June 28, 2019
Lancaster, New York – (June 29, 2019) – Andy Jankowiak of Tonawanda, N.Y., made a quick move to save his night, which put him on point to score his 8th career Race of Champions Asphalt Modified Series victory, his 4th at New York International Raceway Park, home to Lancaster National Speedway, which breaks a tie he had with his car owner, Tom McGrath for 5th on the all-time win list.
Jankowiak slipped into the lead when contact was made between race leader Scott Wylie of Blasdell, N.Y., and Patrick Emerling of Orchard Park, N.Y., on lap 35 of the 60-lap Ol' Boy Cup V, run in honor of the late Bill Colton, one of Lancaster Speedway's biggest supporters. Jankowiak also jumped into the series points lead over Eric Beers.
"This is a great night for all of us," stated Jankowiak in victory lane. "This is home and we want to race home. Thank you to everyone for saving this track. This is win I won't forget any time soon. We had a great car and things just went our way. It is fun racing with Patrick (Emerling), we ran each other hard at the end, but we were able to get here. Thank you to everyone for coming out to see this. This was just awesome."
Timmy Catalano of Ontario, N.Y., and Daryl Lewis, Jr., of Ontario, N.Y., led the field to the green until Lewis had problems, forcing a complete restart. On the start Catalano managed to lead the first lap until Scott Wylie took over the top spot. Wylie survived several restarts until the lap 35 incident which ended his night.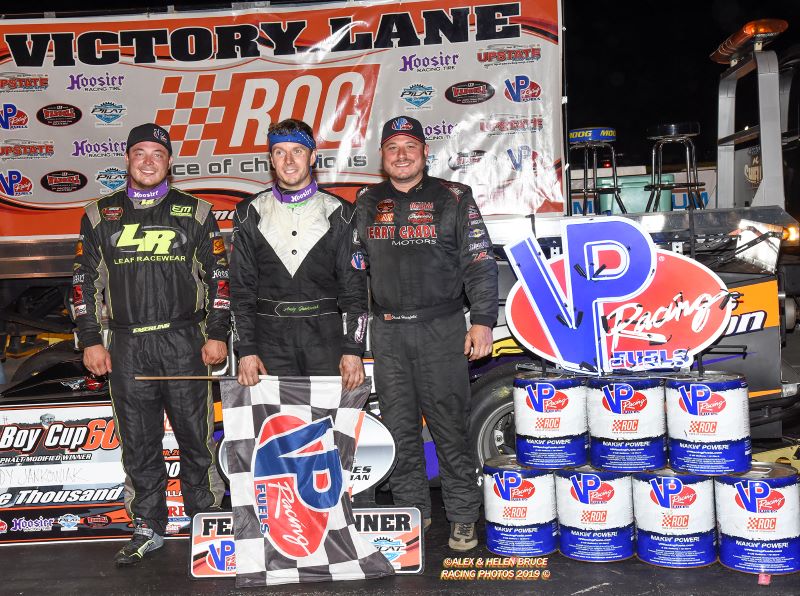 Jankowiak then took over and survived pressure from Emerling, who came home second. Chuck Hossfeld finished third, while Tommy Catalano came home fourth and Eric Beers of Northampton, Pa., rounded out the top-five.
Mike Leaty of Williamson, N.Y., posted the Speed51.com "Top of the Board" overall fast time in group time trials with a lap of 17.232 seconds with an average speed of 104.457 mph.
Beers, Hossfeld and Tommy Catalano won the qualifying races.
Tim Welshans of West Falls, N.Y., (Lancaster Street Stock);  Josh Schosek of Hamburg, N.Y., (Lancaster Four Cylinder) and Kyle Hutchinson of East Aurora, N.Y., (NYPA TQ Midgets) won the support division races.
Feature Finish: 1. Andy Jankowiak (12x), 2. Patrick Emerling (07), 3. Chuck Hossfeld (22), 4. Tommy Catalano (54c), 5. Eric Beers (45b), 6. Amy Catalano (64), 7. Daren Scherer (7), 8. Daryl Lewis, Jr. (10), 9. Owen Badasz (48), 10. John Barber (01), 11. Chris Risdale (1), 12. Dan Majchrzak (14), 13. Mike Leaty (25), 14. Austin Beers (19b), 15. Jake Rought (40), 16. Bob Weber (11), 17. Timmy Catalano (45), 18. Alan Bookmiller (40), 19. Chris Finnachario (8), 20. Scott Wylie (88), 21. Jack Ely (54), 22. Karl Hehr (59), 23. Kevin Miller (2), 24. George Skora, III (65), 25. Danny Knoll, Jr. (17)
The Race of Champions is a sanctioning body presenting Modified and Stock Car racing on asphalt and dirt surfaces throughout the Northeast, with events in New York, Pennsylvania and New Jersey with primary marketing partners Hoosier Racing Tire, VP Racing Fuels, US Army, Upstate Automotive Group, Waddell Communications, Pilat Graphic Design, TDH Refrigeration, Sherwood Racing Wheels, PavedTrackDigest.com and Speed51.com. The 69th annual Race of Champions weekend will take place in 2019 at Lake Erie Speedway in North East, Pennsylvania and is the second longest consecutive auto-racing event in North America, second only to the Indianapolis 500.