Gosek Shows His Might on Mid-Summer Championship Night
July 14, 2019
Oswego's own "Mighty" Joe Gosek captured the checkered flag Saturday night at the Oswego Speedway. After topping the speed charts earlier in the evening with a time-trial run of 15.924 seconds, Gosek slipped under North Carolina's Keith Shampine on lap No. 2 and held on for the win. Shampine would pull even in the midst of lapped traffic late in the race, but Gosek would escape the challenge and earn the feature win.
It was the first win in nearly two years for the seasoned veteran – the first for the car the team purchased from the John Nicotra/Otto Sitterly stable during this past off-season. The 2011 Novelis Supermodified Track Champion and three-time International Classic 200 winner became Oswego's seventh different winner in eight feature events this season.
Listen to – Joe Gosek
Shampine and Gosek led the 20-car field to the green to begin the evening's 50-lap main event. Shampine would put the Chris Osetek-owned No. 55 in front early, bringing Gosek, Dave Gruel, Tyler Thompson and Alison Sload across the stripe to lead lap No. 1. However, before the field could complete their second trip around the lakeside oval's five-eighth's mile, the race's lone caution flag would fly for Aric Iosue's No. 11 and Jack Patrick's No. 90 in turn No. 2.
Looking for revenge on the restart, Gosek would use a good run off of the second turn to slip under Shampine's No. 55 as the two raced into turn No. 3. By the 10th lap, Gosek commanded a dozen lengths over the runner-up. In turn, Shampine would hold a comfortable advantage over the third-place battle between Gruel and Sload. Further back, Thompson fought to hold off a hungry pack looking to break into the top five.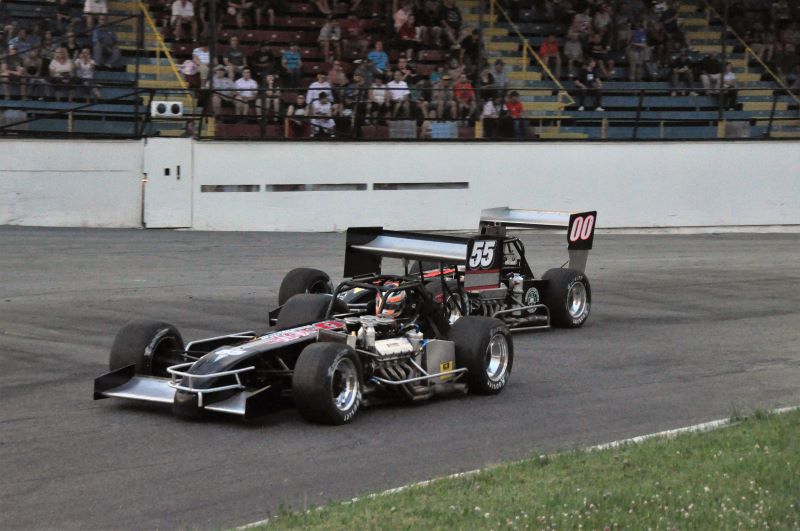 Gosek would venture into lapped traffic on the 13th lap. Shampine was quick to reel the leader in as they began making their way through the rear of the field. About a half lap behind them, Abold would conquer Thompson for fifth.
Once clearing the initial group of lapped supermodifieds, Gosek would begin to inch away, once again. By the 20th lap, the No. 00's lead had grown to 20 lengths over the No. 55. Sload would best Gruel for third, but still trail Shampine by nearly a full straightaway.
With 20 to go, Gosek would come upon another group of cars to lap. Shampine would slowly eat into Gosek's lead, but by the 40th lap, still not pose a challenge to the race leader. Behind him, Sload was noticeably closing in, but still many lengths behind. Abold now commanded fourth, leaving Gruel to fend off Otto Sitterly, Dave Danzer and Michael Barnes for fifth place.
As the raced neared the five to go mark, Gosek's lead quickly evaporated. The No. 00 was having a difficult time in traffic and Shampine was zeroing in, On the 43rd lap, Shampine would catch the race leader. Gosek would slip high between turns three and four, allowing Shampine to slip underneath him as they raced off of the fourth corner.
Still engulfed in lapped traffic, Gosek would battle back around the outside and take seize control with just three trips to go. He'd find grip on the inside lane and avoid any further adventures with the backside of the field. With no further challenges coming from the No. 55, "Mighty Joe" would inch away and cruise the final few laps to earn the checkered flag.
With his first podium finish since opening day, Shampine claimed second place.
Listen to – Keith Shampine
Reeling in the lead duo towards the end, Sload earned her first podium since her win in week No. 1.
Listen to – Alison Sload
Having a solid run and earning the family-owned No. 05 its fifth top-five finish, Abold landed in fourth.
Listen to – Jeff Abold
Fending off Danzer and later Sitterly to hold onto fifth place, Gruel planted his No. 50 in the top five for the second time this year.
Listen to – Dave Gruel
Having started 13th, championship points leader, Sitterly, earned his fifth Hard Charger award by racing his wounded No. 7 to a sixth-place finish.
Listen to – Otto Sitterly
Locked in a battle for Rookie of the Year honors all season, Jack Patrick and Camden Proud have improved tremendously throughout the season. With each driver having rounded Oswego's steel confines in the mid-16 second range, a heat win by either or perhaps both isn't out of the question before season's end.
Listen to – Jack Patrick
Listen to – Camden Proud
After missing nearly the entire first half of the season, Lou LeVea, Sr. and car owner, Steve Buske have docked at the Port City for the last two weeks. With competing with the ISMA and the MSS winged supermodified organizations being their primary intent in 2019, the No. 66 team is a bit behind the new rear wing package at Oswego. With two potent former Ray Graham, Jr. supermodifieds now at their disposal, LeVea believes the team will be racing at Oswego when their schedule permits.
Listen to – Lou LeVea, Sr.
C's Beverage Center Supermodified 50: 1. Joe Gosek (00), 2. Keith Shampine (55), 3. Alison Sload (39), 4. Jeff Abold (05), 5. Dave Gruel (50), 6. Otto Sitterly (7), 7. Michael Barnes (68), 8. Dave Danzer (52), 9. Dave Shullick, Jr. (95), 10. Tyler Thompson (98), 11. Brandon Bellinger (02), 12. Tim Snyder (0), 13. Logan Rayvals (94), 14. Jerry Curran (99), 15. Camden Proud (54), 16. Dan Connors, Jr. (78/01), 17. Lou LeVea, Sr. (66), 18. Hal LaTulip (56), 19. Aric Iosue (11), 20. Jack Patrick (90).
News & Notes
*After crashing his No. 01 in practice, Connors accepted an offer to drive in the Guard Nearbin No. 78
*Heat race wins were collected by Rayvals, Danzer and Thompson
*Top 3 time-trialers: 1. Joe Gosek (15.924), 2. Brandon Bellinger (16.058), 3. Aric Iosue (16.061)
*Gosek's win was his 44th supermodified feature win – 45th overall event win (Gosek won a 10-car, 20-lap "Dash for Cash" invitational race in 1984, noted as his first significant checkered flag).Gosek's first official regular "feature" win came on August 3, 1985, nearly 34 years ago. Just like in this past Saturday night's race, Gosek moved into the lead on the second lap and led the rest of the way. He took the lead away from Dean Hoag on lap No. 2 of the 75-lap event.