Terry Weldy, Chuck Hossfeld Earn R.O.C. Wins at Lancaster
July 21, 2019
Lancaster, New York – (July 20, 2019) – Terry Weldy of Clarence, N.Y., started 4th and took the lead from Sam Fullone of North Collins, N.Y., on a restart and went on to win for the first time in his career in Race of Champions Late Model Series competition on Autograph Night at New York International Raceway Park, home to Lancaster National Speedway.
"We've been trying to win one of these for quite some time and we finally closed the deal," stated Weldy from victory lane. "We had a great car and I was able to get around Sam (Fullone) on that restart and keep rolling. I'm proud of this and all of my guys. This is a great win for us and hopefully don't have to wait as long for our next one."
Weldy held off Frank Batista of Alden, N.Y., who finished second, his best career finish and Fullone, who wound up third. Bob Weber of Clarence, N.Y., and Eldon King, III of Delevan, N.Y., rounded out the top-five.
Weldy and King won the qualifying races.
Chuck Hossfeld of Ransomville, N.Y., drove to victory lane in the Race of Champions Asphalt Sportsman Modified Series 25-lap feature. Hossfeld maneuvered around George Skora, III of Eden, N.Y.
"We really just finished this car," stated Hossfeld. "We had some brake challenges and other gremlins, but my guys, they were able to put it all together and here we are. It was a great night for us. I'm proud of my team. They do an awesome job. You know winning one of these races isn't that easy. Take a look around, there are a lot of good cars here. We'll enjoy this one tonight."
Hossfeld topped Shawn Nye from Lancaster, N.Y., who finished second and John Barber of Bliss, N.Y., who came home third.
Eddie Hawkins of Walworth, N.Y., who won the Series opener at his home track, Spencer Speedway in Williamson, N.Y., finished fourth and maintained his point lead. Jimmy Zacharias of Vestal, N.Y., rounded out the top-five.
Hossfeld, Skora and Nye captured the qualifying race victories.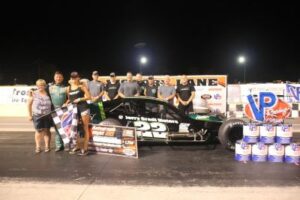 Rich Sharpe of Depew, N.Y., won the Lancaster Street Stock race. Dave Brunka of Cheektowaga, N.Y., won the Lancaster Four Cylinder race while Dave Wollaber of Tonawanda, N.Y., captured the NYPA T.Q. Midget feature.
The next event at NYIRP for the Race of Champions will be the Tribute to Tommy Druar and Tony Jankowiak 110 on Saturday, August 17.
R.O.C. Asphalt Late Model 30: 1. Terry Weldy (66W), 2. Frank Batista (37), 3. Sam Fullone (48), 4. Bob Weber (11), 5. Eldon King (0), 6. Dave Whittaker (2), 7. Ron Richter (31X), 8. Dave Heitzhaus (45), 9. Dave Rigan (24), 10. Joe Brainard (98)
R.O.C. Asphalt Sportsman Modified 25: 1. Chuck Hossfeld (22), 2. Shawn Nye (51), 3. John Barber (01), 4. Eddie Hawkins (33), 5. Jimmy Zacharias (71z), 6. Mike Fiebelkorn (10F), 7. Neil Dietz (84), 8. Andy Jankowiak (41), 9. Andy Lewis (65L), 10. Joe Evans (91), 11. Bob Weber (11), 12. Mark Pennell (18), 13. Jeff Szfraniec (83), 14. Tim Gullo (71G), 15. Leo Becker (6), 16. Cassie Logsdon (09), 17. Robert Mison, Jr. (18W), 18. Jayme Thompson (54), 19. Daryl Lewis, Jr. (10L), 20. Tony Carbone (31), 21. Erick Ruffel (18R), 22. George Skora, III (65NY), 23. Bob Hanel (33), 24. Dave Koszlowski (36)