Monster Truck Show at Evans Mills raceway Park on Aug 3rd
August 6, 2019
Evans Mills PR – The Monster Truck Summer Nationals were held at Evans Mills Raceway Park on Saturday, Aug 3rd . As thousands of people started filing into the facility at 11 am, the sun was shining, kids of all ages were grinning with anticipation, moms, and dads were excited to see the 2 TIME WORLD CHAMPION Jimmy Creten's BOUNTY HUNTER & Dawn Creten's SCARLET BANDIT – IRON OUTLAW and KNUCKLEHEAD as they competed in earth shaking, ground-pounding, high flying excitement.
Cameras were ready as Jimmy Creten, the World Champion, BOUNTY HUNTER did a HUGE MONSTER TRUCK BACK FLIP!
FMX Extreme Freestyle riders performed huge stunts & tricks flying ramp to ramp over 60 feet in the air! A Demolition Derby kept the crowd entertained as they crashed into each other until the last one still running won the purse and bragging rights.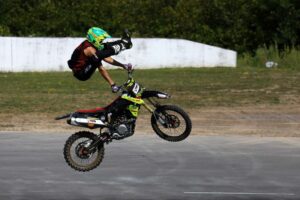 The packed grandstands roared for the future racers competing in POWER WHEEL RACE. And hundreds of people took a ride on a real monster truck called the RED NECK ROAD TRIP. It was a fun day for the north country. People from all over traveled to Evans Mills to see this great show put on by 2Xtreme Racing.
This Saturday August 10th beginning at 9 am we are offering the opportunity of a lifetime; Rusty Wallace Driving Experience, your chance to slid behind the wheel of a full blown Cup car. For details, please click http://www.racewithrusty.com and find Evans Mills Raceway Park on the NYS list of Tracks.
This Saturday we invite everyone to return to Evans Mills Raceway Park for a great night of racing. Caskinette Ford Sportsman~Modifieds, Fidelis INEX legends, Sport Compact and Serv~Pro Thunder Stock will all be competing on Family Autograph Night presented by Watertown Savings Bank. Gates Open at 5 pm, Racing begins at 6:30. Adult Admission $12, Military $10, and children 10-17 $6.
Bring your appetite as we have full concessions on a clean, affordable, family friendly facility.
Sincerely,
Tobi Newcombe
Director of Marketing & Promotions
tobi.newcombe@gilleesauto.com
call/text 315-323-6033