Around The O – Shullick Wins Over Shampine, Sitterly Wrecks
July 18, 2018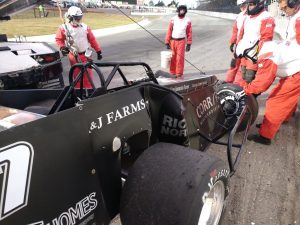 As race teams round the halfway point on Oswego Speedway's 2018 schedule, the crucial final four-race stretch begins this weekend. The championship points chases are close in each division. However, if there's a date on the schedule where points take a back seat in the eyes of most drivers, it's this Saturday night's $10,000 dollar to-win Mr. Supermodified and $1,500 dollar Mr. SBS events.
In the Novelis supermodified division, there are four drivers with a legitimate shot at the track championship. Seeking an eighth track championship, Otto Sitterly leads Keith Shampine by just 11 points, with Michael Barnes and defending title holder, Dave Shullick, Jr. sitting just 35 markers behind.
In the Pathfinder Bank division, Anthony Losurdo holds a 25-point lead over Russ Brown. Down, but not out, Mike Bond sits 63 points back, with defending champ, David Cliff 93 points behind.
Last Saturday night, Shullick did what he needed to in order to stay in the chase, pocketing his fourth feature win of the year. The victory equals his regular season total from last year's championship season.
Fresh off his win two weeks ago, points leader Sitterly saw his evening grind to an end against the outside confines of Oswego's steel walls. Racing with Shampine just past the halfway point of the feature, the two would come together in the midst of lapped traffic between turns three and four. Sitterly's No. 7 would ping-pong its way from the inside hub rail to the outside wall.
With both drivers aiming for the same pathway around the lapped cars, Sitterly was confident that Shampine knew the John Nicotra-owned No. 7 was under him when he pulled his No. 55 to the inside lane. Sitterly would be credited with 16th place.
Trying to cut into Shullick's 15-car length advantage, Shampine says he never saw the No. 7 machine and was just adjusting to the lapped cars in front of him. The Chris Osetek-built No. 55 would cross the checkered stripe in second place.
Having been piloting the car the duo had been racing behind, Indianapolis resident and former full-time competitor, Jeff West, was making his second appearance of the 2018 season. The owner of three supermodified feature wins in his Oswego career, West left Oswego seemingly at the height of his performance. He put his No. 01 in the top five in points three straight seasons (1997-1999) and became an International Classic winning car owner, after Bentley Warren's improbable win in West's backup No. 1 in 1998.
West says the plan is to run this coming weekend and then hit the lakeside oval twice before competing in the 62nd running of the International Classic.
Returning last weekend after suffering a series of engine woes that kept him away from the track for a month, Jeff Abold put the family-owned No. 05 in the top five. Abold says he believes the team has finally pinned down the cause of the motor issues and that their only obstacle now is to catch up to the rest of the field.
The father-son combo of Lou LeVea Sr. and Lou LeVea Jr. have been racing together in the Novelis supermodified division for many years. Lou Sr.'s 2018 season started off with a bang, but not the kind of bang he was hoping for. Just a month after purchasing the former Graham Racing No. 90, the Buske Racing No. 66 suffered a mechanical failure and walloped the first-turn wall during the track's pre-season open practice session in May. The setback forced the team to turn to their older, 20+ year old Page Chassis as work continued on prepping their new, modern acquisition.
LeVea says the team is building up an inventory of spares before the former No. 90 hits the racing surface. In the meantime, he's having fun trying to get the best out of the older No. 66.
In short, LeVea Jr. hasn't had the season he was hoping for. The last two weeks he's time-trialed in the 16.6 and 16.9 second range. However, that momentum was put to rest during last Saturday's heat race action.
Racing with his father, the two were forced to take evasive action after Aric Iosue spun his No. 11 in front of them. LeVea Sr. escaped while LeVea Jr. found the outside retaining wall. He'd been working on trying to find a way around his father.
His No. 83 suffered considerable right-front damage, cutting his evening short.
Sitting 12th in the Pathfinder Bank driver points, but atop the field of freshmen in the chase for 2018 SBS Rookie of the Year honors, is Joshua Sokolic. The pilot of the No. 26 SBS racer nearly captured a feature win two weeks ago, only to watch Anthony Losurdo pass him with just two laps to go.
Sokolic is young and confident. Having found success in quarter midgets, he jumped at the opportunity to race a small block supermodified. Normally, landing a few top 10s or maybe earning a podium finish in a rookie season would be seen as a successful maiden campaign. However, Sokolic has done both, as well as taken two checkered flags via heat race wins. He wants and expects more in the second half of the season.
Mike Bond captured his 43rd-career small block supermodified feature win last Saturday night. In what's been a season of extremes for the No. 74 team, Bond's weekly results have been nothing but peaks and valleys.
He's gone from opening night's 20th-place finish, to earning the win in week No. 2. That was followed by another 20th-place finish before nearly taking the win the following week – finishing second to Tyler Shullick.
In perfect pattern, two weeks ago, he was on his way to the front, only to make contact with the eventual winner and was sent to the rear of the field. Of course, that disappointment would be followed up with success – a win last Saturday night. If things continue to play out this way, this weekend's Mr. SBS promises to be another valley. However, Bond says it's time for the pattern to change.
Making his return to supermodified racing after a 17-year hiatus is Oswego's own Roger Clark. Clark last raced (part-time) in 2000. However, he's been in the pits working with Tim Snyder and Hal LaTulip for many years. Clark's return to racing stems from a combination of mechanical ideas he's wanted to put into action, an ongoing desire to race again, changes in family and financial situations and perhaps a little unfinished business.
It's been a rough go of it, getting the No. 4 up to speed. Clark knows he doesn't have the equipment to compete with the higher dollar teams. He says progress is being made and he and the car just need to get in some laps. During last weekend's practice session, he went from running in the 23-second range to the upper 19s. He still has a ways to go, but it's progress.
Realistically, he's gunning to get his car running under 17.5 seconds and perhaps qualify for the International Classic – something he says he's never been able to do.