Hossfeld goes Back-to-Back on the Weekend with Wins at Lancaster and Spencer
August 27, 2019
RICH SHARPE SCORES "TRIBUTE TO KEN HECKLER 51" FOR LANCASTER STREET STOCKS WHILE CHUCK HOSSFELD SCORES LAST LAP RACE OF CHAMPIONS SPORTSMAN MODIFIED SERIES WIN
Lancaster, New York – (August 25, 2019) – Chuck Hossfeld of Ransomville, N.Y., started 3rd, took the lead from Patrick Emerling of Orchard Park, N.Y., after Emerling and Shawn Nye of Lancaster, N.Y., slid up side-by-side in turn three to make a dramatic three wide move and go on to the victory in the last lap of Saturday's 35-lap Race of Champions Asphalt Sportsman Modified Series event at New York International Raceway Park, home to Lancaster National Speedway.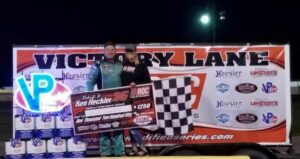 "We've had a really good weekend," stated Hossfeld from victory lane. "It was a crazy run down into turn three and they slid up and we were able to capitalize on it and get to victory lane. It's a really good night for us and we want to recognize the Heckler family for all of their contributions to tonight. It's a great win for us and we can't ask for much better than this."
Nye led the early laps of the event before Hossfeld took over and went on to the victory.
Rich Sharpe of Depew, N.Y., led all 51-laps of the Tribute to Ken Heckler "51" for the Lancaster Street Stock division. Sharpe held off Tim Welshans of West Valley, N.Y., and Chris Powers of Blasdell, N.Y., to score the victory.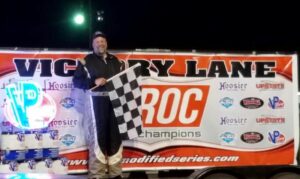 The Lancaster Street Stock division has now been added to the Friday, September 27 portion of the 69th Annual Presque Isle Downs and Casino Race of Champions Weekend program at Lake Erie Speedway.
The Race of Champions is a sanctioning body presenting Modified and Stock Car racing on asphalt and dirt surfaces throughout the Northeast, with events in New York, Pennsylvania and New Jersey with primary marketing partners Hoosier Racing Tire, VP Racing Fuels, US Army, Upstate Automotive Group, Waddell Communications, Pilat Graphic Design, TDH Refrigeration, Sherwood Racing Wheels, PavedTrackDigest.com and Speed51.com. The 69th annual Race of Champions weekend will take place in 2019 at Lake Erie Speedway in North East, Pennsylvania and is the second longest consecutive auto-racing event in North America, second only to the Indianapolis 500.
For more information, contact;
Race of Champions Media at [email protected]
Follow us on Twitter; Instagram and Facebook; @RoCModSeries or visit our website: www.rocmodifiedseries.com