PATRICK EMERLING SCORES ROD SPALDING CLASSIC VICTORY AT CHEMUNG
August 6, 2019
PATRICK EMERLING SCORES ROD SPALDING CLASSIC VICTORY IN RACE OF CHAMPIONS ASPHALT MODIFIED SERIES WIN AT CHEMUNG SPEEDROME
– Lee Sharpsteen Scores Tribute to Ed McGuire 51 and Andy Jankowiak Wins Inaugural Race of Champions TQ Midget Series Event –
Photos – Zachary Skotnicki
Chemung, New York – (August 5, 2019) – Patrick Emerling of Orchard Park, N.Y., earned his 16th career Race of Champions Asphalt Modified Series victory this past Saturday in the Rod Spalding Classic at Chemung (N.Y.) Speedrome.
Emerling's win ties him with his crew chief, Jan Leaty of Williamson, N.Y., for 4th on the all-time win list.
Emerling started 10th and methodically worked his way through the field, ultimately wrestling the lead away from TJ Potrzebowski of Elmira, N.Y., on lap 45 and heading to victory lane.
"We've been challenged here, looking for speed," stated Emerling from victory lane. "But we found it tonight. The car was good throughout the race and I just used some patience to get into a position to win. It can get wild here. I'm proud of my team, we've had a long weekend and this is a good way to end it."
Owen Bednasz of Lakeview, N.Y., led the field to the green and led the first circuit before Potrzebowski claimed the top spot.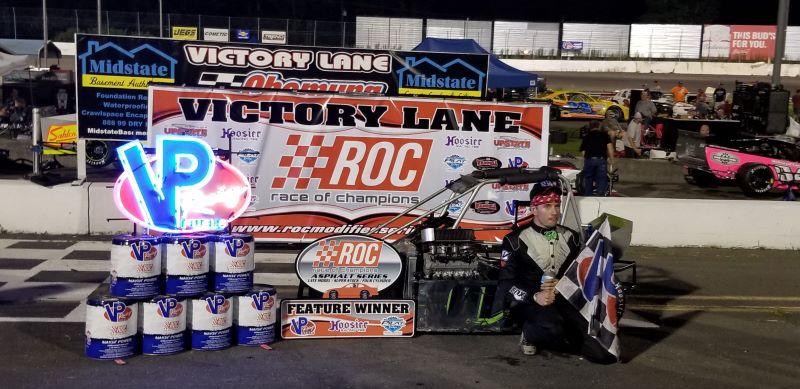 Tyler Rypkema of Owego, N.Y., took his turn out front after passing Potrzebowski, while the action was fast and furious behind him. Potrzebowski then slipped back into the lead just before halfway and led until Emerling went in to the top spot for good.
Matt Hirschman of Northampton, Pa., finished second, while Austin Kochenash of Danielsville, Pa., finished third. Brian Defebo of Scranton, Pa., came home fourth while Scott Wylie of Blasdell, N.Y., finished fifth.
Hirschman posted the fastest time during group qreen-white-checker qualifying with a time of 14.903 (90.586 mph).
Rypkema, Chuck Hossfeld of Ransomville, N.Y., Mike Leaty of Williamson, N.Y., and Jack Ely of Wall Township, N.J., won the qualifying races.
Lee Sharpsteen of Waverly, N.Y., won the Tribute to Ed McGuire 51 for the Race of Champion Super Stock Series over Mike Nichols of Elmira, N.Y., who finished second. Joe Mancuso of Buffalo, N.Y., finished third.
Andy Jankowiak of Buffalo, N.Y., won a thrilling first-ever Race of Champions TQ Midget feature event. Jankowiak topped Kyle Hutchinson of East Aurora, N.Y., who finished second. Joey Bailey of Monroe, N.J., finished third.