PALLER STELLAR AT AUTO CITY SPEEDWAY
August 6, 2019
MSS PR Aug. 3 – MSS supermodifieds did not disappoint fans on Saturday night as a very well run night of racing and drivers had put on an intriguing show at the ½ mile paved oval, Auto City Speedway in Clio, Michigan. For some drivers, this track is a challenge at high speeds. After interviewing several drivers, some discussed how the track is a bit "goofy" with turn 1 & 2 being a bit wider than turn 3 & 4. The drivers given their 2 hot laps sessions to shake down this egg-shaped oval was not the only challenge for MSS drivers.  Given MSS had a 10 car count (recent bad luck with few teams having motor & health issues) for the day, there still is a tight points race.  Without a doubt, Auto City fans that witnessed one captivating race. With evening setting, #22 Mike McVetta, had the fastest qualifying time with a 13:242 and #64 Jim Paller, with a 13:363.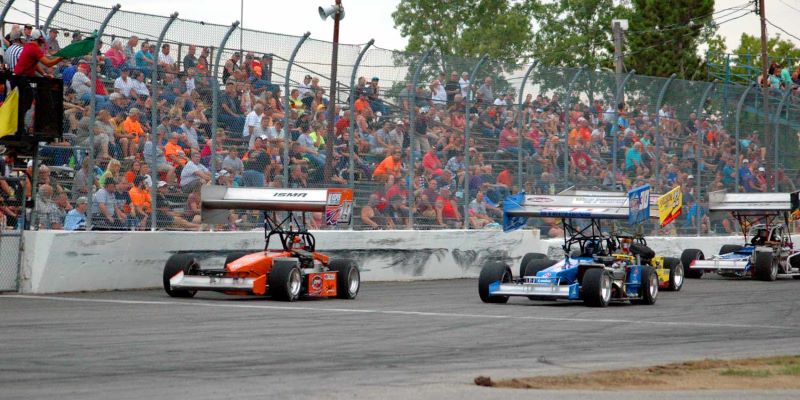 The feature was a 30 lap main event, with a very competitive lineup. #7 May Motorsports owned supermodified pilot, AJ Lesiecki, paced and led the field the first 10 laps.  #64 Jim Paller reeled in A.J. on lap 12 after darting through tight competition to take the lead. Meanwhile, ensuring his podium finish #19 Trent Stephens was on the move slipping by #72 Danny Shirey for the 3rd spot.  By lap 20 after passing Lesiecki , Trent set his sights on chasing Paller down. Shirey getting challenged by #22 McVetta in the "ketchup & mustard" special but lap 22, McVetta coasted to a stop on the front straightaway which led to the 1st and only yellow caution of the night. McVetta returned to the field before the restart. As soon as the green flag was waved, #19 Trent Stephens challenged Paller but the #64 CMC Trucking sponsored roadster was set on rails as Jim Paller rocketed to a "straight-away" lead.  By lap 27, after passing #30 Talon Stephens, #72 Danny Shirey, moved to 4th and set his target on #7 A.J. but it was too late.  When the dust settled, there was no denying Paller to his stellar finish with #19 Stephens, and #7 A.J. to round the top 3. 
MSS graciously sends their gratitude to Kevin Lincoln of Lincoln Racing donating $100 to the 5th place finisher.
Special Thanks to Mr. Joe DeWitte – Track Owner for including MSS on his 2019 schedule and Sharon Fischer for all the great marketing for our show.
MSS would also like to give special thanks to Mr. Mark Strpko of Strypko Engineering for driving the honorary pace car in the #83 1975 Dowker built Supermodified.  This supermodified was driven by West Michigan legend Wayne Landon who passed away this morning August, 4th and is survived by his grandson Nick Landon.  MSS sends condolences to the Landon Family.