Losurdo Dominates in Fourth SBS Win; Doyle Takes 350 Main
July 14, 2019
Anthony Losurdo backed up last weekends Pathfinder Bank SBS feature win his fourth of the season on Saturday night at the Oswego Speedway. In similar fashion to last week's triumph, Losurdo would take the lead near the halfway mark and race away unchallenged. The victory was career win No. 11 in the SBS division, putting him one behind Andrew Schartner for seventh all-time.
Losurdo has now finished in the top five all but once this season.
Listen to – Anthony Losurdo
Joshua Sokolic would wrestle the lead away from Greg O'Connor at the start of the 30-lap SBS main. Mike Bruce, David LaTulip and David Cliff would chase the leaders across the checkered strip to complete lap No. 1.
Contact between Losurdo and Cliff would end with Losurdo gaining control of fifth place on lap No. 2. One lap later, O'Connor would slip out of the racing groove and get freight-trained back to fifth place.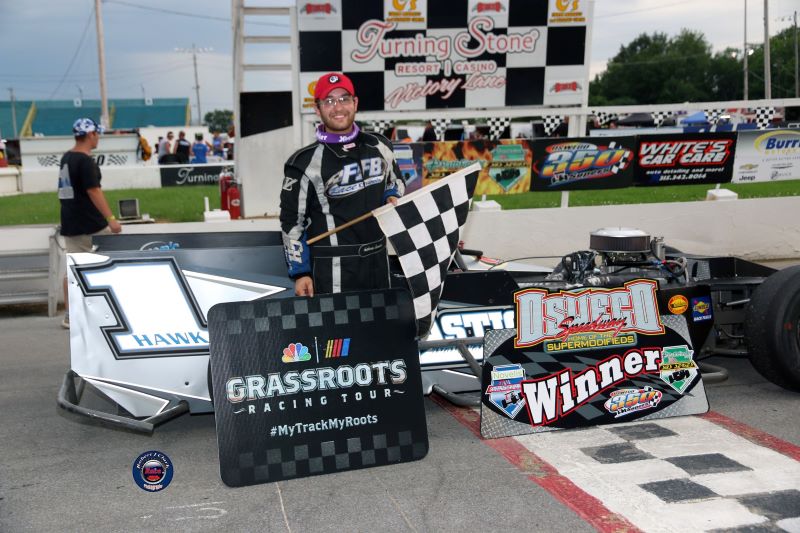 Seeking his first feature win, Sokolic would begin to inch away from Bruce as Losurdo moved around LaTulip and began working on the runner-up No. 04. On lap No. 8, Losurdo would ease underneath Bruce in the third turn and exit turn No. 4 as the new second-place running driver.
Sokolic had built a five-car advantage, but Losurdo wasted no time in erasing the real estate that separated the two. He would catch the race leader and hound him for a single trip before blasting by his left side on the 12th lap.
Having been struggling to get around O'Connor's No. 90, Cliff would finally break into the top five on the 14th lap. At the halfway mark, Losurdo held a 10-car length advantage over Sokolic's No. 26. Five lengths behind Sokolic, Bruce and LaTulip raced closely for third. Closing in behind them in fifth, was Cliff's No. 50.
Up front, Losurdo was on cruise control. Sokolic could do nothing but watch the No. 1 pull away. Though, he would continue to hold a comfortable advantage over the trio battling for third. Cliff would often find room under LaTulip's No. 27, but was unable to make anything stick. The Tim Barbeau-owned No. 50 could simply not get the outside lane to work. LaTulip's attention would end up turning more towards fending off Cliff than trying to find away around Bruce for third.
At race's end, Losurdo would take the checkered flag, over Sokolic and Bruce.
Listen to – Joshua Sokolic
Listen to – Mike Bruce
In 350 supermodified action, Dalton Doyle would earn his second win of the season. The Syrell Racing No. 08 would beat Losurdo to the first turn to take command and hold it the entire distance.  Losurdo, John Burke and Barry Kingsley rounded out the finishing order.
Listen to – Dalton Doyle
C's Beverage Pathfinder Bank SBS 30: 1. Anthony Losurdo (1), 2. Joshua Sokolic (26), 3. Mike Bruce (04), 4. David LaTulip (27), 5. Dave Cliff (50), 6. Cameron Rowe (77), 7. Tony Pisa (89), 8. Travis Bartlett (03), 9. James Babcock (15), 10. Greg O'Connner (90), 11. Steve Flack (32), 12. Russ Bartlett (02)