"Bam-ba-Lam!" Black Betty Delivers Sitterly Ninth Title; Shampine Earns Feature Win
August 18, 2019
She may not have been up to her usual self on Saturday night, but for the 2019 season, Black Betty has been pretty "rock steady." Otto Sitterly piloted her to a top-10 finish in all 12 races, including nine top-five's and two wins. The black No. 7 finished eighth in Oswego Speedway's regular season finale on Saturday, but it was enough to earn the Canajoharie native a record-breaking ninth track championship – the eighth with John Nicotra Racing.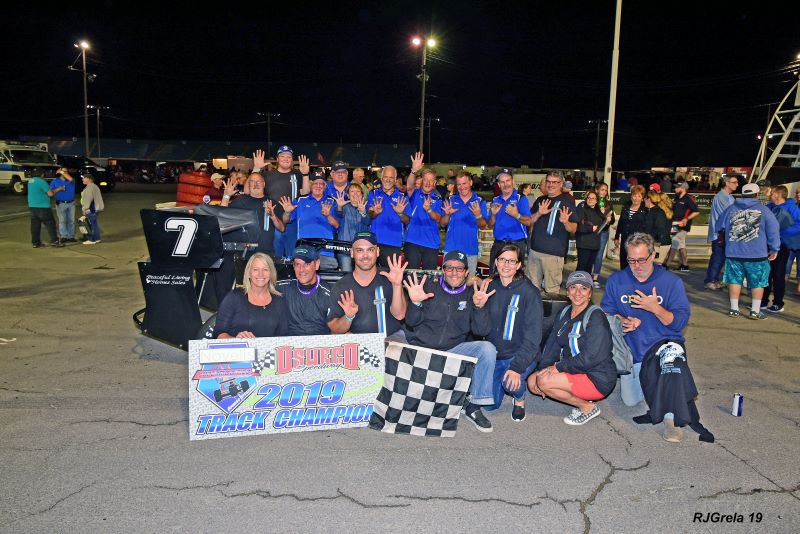 After tying Oswego Speedway legend Nolan Swift with an eighth championship last season, Sitterly defended the title in 2019, putting himself atop the list of champions, with nine. It's a record that only Sitterly will be able to break for quite sometime. Dave Shullick, Jr. (1), Michael Barnes (1), Joe Gosek (2) and Doug Didero (3) are the only active drivers who've won a supermodified track championship at Oswego. All nine of Sitterly's have come in just a 14-year span.
In two weeks, Sitterly will attempt to defend his 2018 International Classic 200 win (his fifth). A sixth victory in 63-year old event would tie him with Swift, Bentley Warren and Greg Furlong for the most wins. 11 different drivers pocketed feature wins in 2019, with Sitterly being the only one to repeat. A winner of half of all of the Classics run in the past decade – having stood on the podium in seven of them, essentially makes him THE favorite.
Listen to – Otto Sitterly, part 1

Listen to – Otto Sitterly, part 2

At the end of last Saturday night's racing, Concord, North Carolina's Keith Shampine exited the steel confines of the lakeside oval with a badly damaged car and broken finger. A heat race wreck (also involving Sitterly, who coincidently suffered a broken finger, as well) ended his night early. While the car was pieced back together in NY, Shampine had doubts as to whether he would even be able to compete in Oswego's regular season finale. By week's end, he'd decided to make it a race-time decision based on how his hand felt after practice.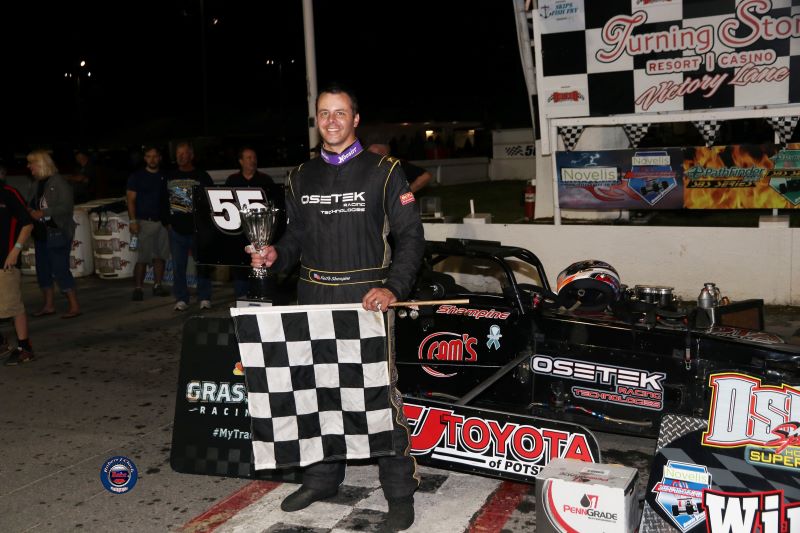 Practice and his time trial didn't offer up the best lap times, but did give him the confidence that his hand could probably take the riggers of a 50-lap race. After throwing a few changes at the car for the feature, Shampine would quickly jump into second place from his second row starting position.
His No. 55 would hound the Dan Connors, Jr. No. 01 up until the 29th lap, where a perfectly timed move in lapped traffic allowed him to slip under Connors, skate across the bow of the No. 01 and race around the outside of a lapped car – preventing Connors from making an inside counter move. After threading the needle, Shampine would dominate the race en route to becoming Oswego's 11th different feature winner in 12 main events. It was his third trip to victory lane since joining forces with Chris Osetek Racing in 2013.
Listen to – Keith Shampine, part 1
Listen to – Keith Shampine, part 2
Aric Iosue would break loose at the drop of the green, allowing Connors to take the point and Shampine to slip past his No. 11. Dave Danzer and Dave Shullick filled out the top five behind the lead trio at the completion of the field's maiden lap.
The lead duo would begin to break away from Iosue and the field. After taking fourth from Danzer, Shullick would use a sling-shot move between turns one and two to make his way under Iosue for third. Before he could set course for the two leaders, Camden Proud looped his No. 54 on the back straightaway.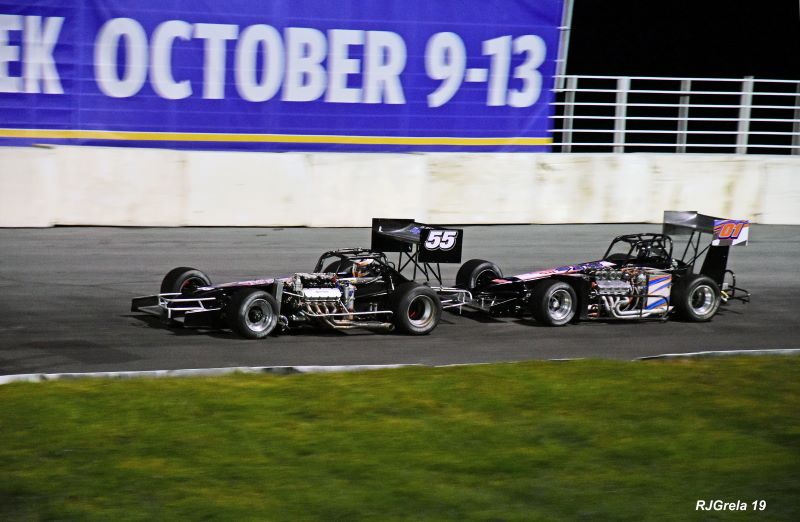 As a result, Shullick's pass on Iosue would be negated. With five rounds in, Connors led Shampine, Iosue, Shullick and Danzer. Jeff Abold, Alison Sload, Tyler Thompson, Sitterly and Dave Gruel rounded out the top 10.
An early jump by Connors helped him hold his ground on the restart. Shullick would make quick work of a squirrelly Iosue, taking over third. One lap later, Danzer knocked Iosue back to fifth.
Shullick quickly joined the two leaders, making it a three-car dance for the point. While Shampine continued to look for a path around Connors, his teammate, Shullick, began evaluating his options with Shampine.
The teammates would bang wheels as they raced out of the fourth turn on the 23rd lap. Shullick's recovery would come at a price, as Danzer and Abold each zipped past him.
Up front, Connors would close up on light lapped traffic on 25th lap. Four laps later, as the duo raced into the third turn, Shampine dove under the race leader as the No. 01 prepped to put a lap on Hal LaTulip's No. 56. With little time to spare, Shampine would slip up in front of Connors to avoid being pinned behind the No. 56. Completing the lap of LaTulip, Shampine would emerge from the fourth turn as the new race leader on lap No. 29.
Immediately, Shampine would begin to pull away. By the 32nd lap, he'd put 10 lengths on second-place running Connors. In turn, Connors began to fall into the clutches of Danzer, Abold and Shullick.
Abold would get Danzer on the 34th lap. He would quickly look for room under Connors for second, but would run out of room down low. In the midst of lapped traffic, Abold's No. 05 would conquer the No. 01 on the 39th lap. One trip later, the yellow would fly for Sload's No. 39, broken down on the front straightaway.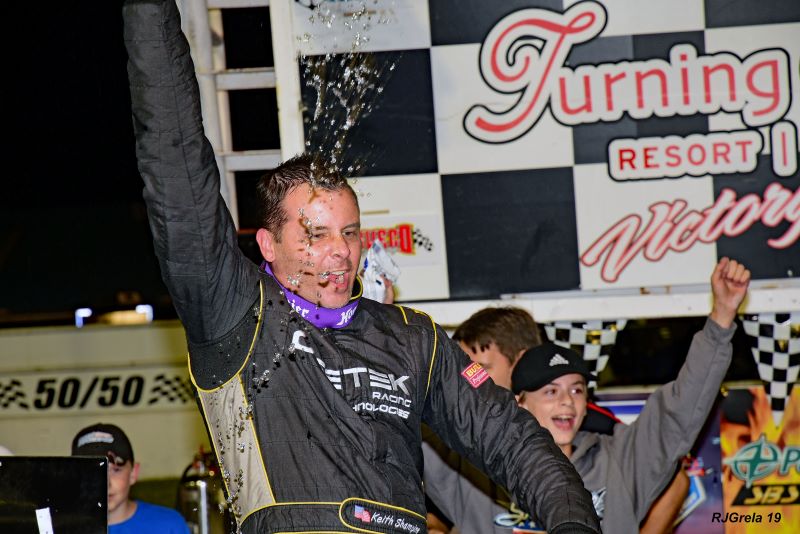 With 11 laps to go, Shampine would take the green flag with a trio of lapped cars between himself and Abold. Connors, Danzer and Shullick rounded out the top five. Thompson, Joe Gosek, Sitterly, Brandon Bellinger and Michael Barnes completed the top 10.
With Shampine pulling away up front, Connors had nothing left on the restart. The former race leader would watch Danzer take third away from him on the 42nd lap and Shullick and Thompson knock him out of the top five one round later.
Shampine would eventually pull out to a full straightway advantage over Abold. The leaderboard would stay the same the rest of the way. The No. 55 would take its first checkered flag of the season and sail into victory lane, rebounding from a hard trip into the wall a week earlier.
Heading into the evening second in points behind Sitterly, Abold was able to focus on his own race at the drop of the green flag. Just by starting the race, Sitterly had clinched the championship. Having made his way up to second place from his 10th starting spot, Abold was pleased with how his race night went.
Listen to – Jeff Abold
Landing the family-owned No. 52 in third, Danzer was happy with his night as well.
Listen to – Dave Danzer
Quick from the point it was unloaded, Shullick settled for fourth after and early jingle with Shampine.
Listen to – Dave Shullick, Jr.
Backing up his win one week ago, Thompson landed the JSR No. 98 in fifth.
Listen to – Tyler Thompson
Returning from a week off abroad, Gosek showed he hadn't lost a step, crossing the checkered stripe in sixth.
Listen to – Joe Gosek
Finishing behind seventh-place Barnes and eighth-place Sitterly, Bellinger would return after a long week of repairs to his badly damaged super, landing the Daratt Farms No. 02 in ninth.
Listen to – Brandon Bellinger
Finishing 19th, Proud just held off Jack Patrick in the final points rundown to claim Rookie of the Year honors. In doing so, he became just the fourth driver to have earned ROY in both, the SBS and supermodified divisions. Proud was the small block super ROY in 2014. The 20-year old was just 15 that season.
Listen to – Camden Proud
Skip's Fish Fry Novelis Supermodified 50: 1. Keith Shampine (55), 2. Jeff Abold (05), 3. Dave Danzer (52), 4. Dave Shullick, Jr. (95), 5. Tyler Thompson (98), 6. Joe Gosek (00), 7. Michael Barnes (68), 8. Otto Sitterly (7), 9. Brandon Bellinger (02), 10. Dave Gruel (50), 11. Dan Connors, Jr. (01), 12. Tim Snyder (0), 13. Dan Bowes (25), 14. Jack Patrick (90), 15. Logan Rayvals (94), 16. Jamie Timmons (27), 17. Lou LeVea, Jr. (83), 18. Hal LaTulip (56), 19. Camden Proud (54), 20. Alison Sload (39), 21. Aric Iosue (11), 22. Guard Nearbin (78)
Heat race wins went to Thompson, Sload and Gosek. Sitterly won best time with a lap of 15.850 seconds.